Commercial Carpet Cleaning

Augusta, GA
Expert Carpet Cleaning – 100% Satisfaction Guarantee
Why Choose Universal Carpet Clean Professional Commercial Cleaning Service
PROFESSIONAL SERVICES
Carpet Cleaning
House Cleaning
Area Rug Cleaning
Tile & Grout Cleaning
Upholstery Cleaning
Pet Odor Removal
EXPANDED BENEFITS
Fast Response Times
Modern Efficient Methods
Professional Products
Same Day Results
Friendly Customer Service
100% Satisfaction Guaranteed
MULTIPLE SERVICE AREAS
Aiken, SC
Beach Island, SC
Blythe, GA
Clearwater, SC
Dearing, GA
Evans, GA
Our Home Cleaning Services
Universal Carpet Cleaning provides reliable carpet cleaning services throughout the area. Our state-of-the-art carpet cleaning technology allows us to remove months of dirt and grime from your carpets
At Universal Carpet Cleaning, we offer amazing house cleaning services where we will clean, disinfect, and sanitize your home so you don't have to. Our house cleaners are fully qualified professionals.
Our rug cleaning service is able to clean a variety of specialty rugs without causing any damage from water or our cleaners. We can wash, dry-clean or restretch and restore your old rugs that mean so much to you.
Universal Carpet Cleaning's tile and grout cleaning crew will arrive armed with the toughest tile cleaning equipment to give you the deep clean you're after, while protecting your flooring investment.
Our upholstery cleaning service can remove your upholstery cleaning headache and leave your furniture clean and looking like new. We recommends that your upholstery be cleaned at least once a year.
Universal Carpet Cleaning has specialized in odor removal from area homes and businesses for years. There is a science to proper odor removal. Whether it's pet odors or something else our experts can remove it.
Are you looking for a reliable company to clean the carpets in your professional building, retail shop or medical facility? Look no further. Universal Carpet Cleaning has been the local choice for commercial carpet cleaning Augusta, GA for over 8 years. We work with many area business in keeping them looking their best for visitors and clients, and we can help you too. Whether you require a one time steam cleaning of your carpets, or would like to take advantage of our carpet maintenance program, we can come up with a solution to fit your needs and your budget. ! 
Improve the Health Of Your Building With Carpet Cleaning!
Did you know your carpet in your office building serves as a giant air filter? That is carpeting's main job, and it does it very well. Carpeted surfaces trap airborne particles, making the indoor air cleaner. But filters can only hold so much debris before they stop working. At that point, walking across dirty carpet actually releases trapped particles, making them airborne. That is why regular vacuuming and periodic professional carpet cleaning is important to the health of your building. Learn more about Mattress Cleaning Augusta, GA.

Clean Carpets Increase Happiness!
If you can tell that your carpet needs professional cleaning, your employees and guests can see it too. You might already have it on your to-do list. Don't procrastinate any longer. Just pick up the phone and make an appointment for a free estimate by calling (706)50-4167. Clean office carpets would make anyone happy!

Save Money
Save money by paying a contractor for commercial carpet cleaning? Yes, it's true! First, it's about impressions. Customers vote with their dollars and they would rather visit a clean establishment. Successful businesses are clean businesses. Period. Second, clean carpets work as great filters to remove particles from the air and improve indoor air quality. A healthy work environment promotes a happier and more productive work environment. Lastly, sand and dirt and general grit that become trapped in carpet damages the fibers just like sandpaper would. The result is frayed fibers and a prematurely worn carpet that will become a significant expense sooner rather than later. Protect your business. Vacuum that carpet daily and deep clean it regularly.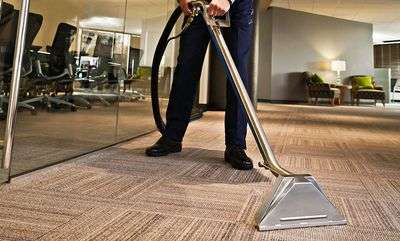 Why Should You Hire Universal Carpet Clean For Commercial Cleaning Service In Augusta, GA
Wide Range Of Abilities
Universal Carpet Cleaning offers a variety of solutions for any type of home cleaning project. We have years of experience in the carpet cleaning field in both residential and commercial properties. Our highly trained technicians can clean your home's floors and carpets to the max. Give us a call today and ask for a free quote.
Transparent And Affordable Prices
We will never trick you into paying hidden fees, all of our services are clearly priced before we start and we will not add on any prices without asking you first. We keep our prices affordable in order to continue in offering our services to everyone. Our services will never let you down. Call now. 
Industry-Leading Solutions
After years in the market, we realized the best processes and solutions to clean your floors to the max. We keep up to date on industry-leading technologies to continue giving you the best results. We test all of our products and equipment to ensure absolute satisfaction. If you need the best, call us.
This was my first time using Universal Carpet. But it definitely will not be my last. I reached out in order to get the carpets cleaned on a property that I was listing. They came out a few days prior to closing and did an outstanding job. Extremely responsive and punctual. They are now my go to go carpet cleaning service.
We needed the tile and grout in our kitchen floors cleaned which are tile. They were very responsive to messages to schedule appointments. They were on time, had great communication and my floors look great! There is no dirt in the grout at all can't wait to use them again.  Would definitely recommend it to anyone! 
This company is great. The technician was friendly and professional. He did an amazing job cleaning my carpet. I had previously had 2 other companies clean the same carpets and could not get them clean. One time and they have gotten my carpets looking brand new and they were out of here in a couple of hours. Amazing job!
Carpet Cleaning Service for GA and SC
We work throughout the Central Savannah River Area. Including Augusta GA, Evans GA, Martinez GA, Blythe GA, Harlem GA, Hephzibah GA, Appling GA, Grovetown GA, Thomson GA, Waynesboro GA, North Augusta SC, Aiken SC. Clear Water SC, Beech Island SC, 
Universal Carpet Cleaning
3114 Augusta Tech Drive, Augusta, Georgia 30906, United States